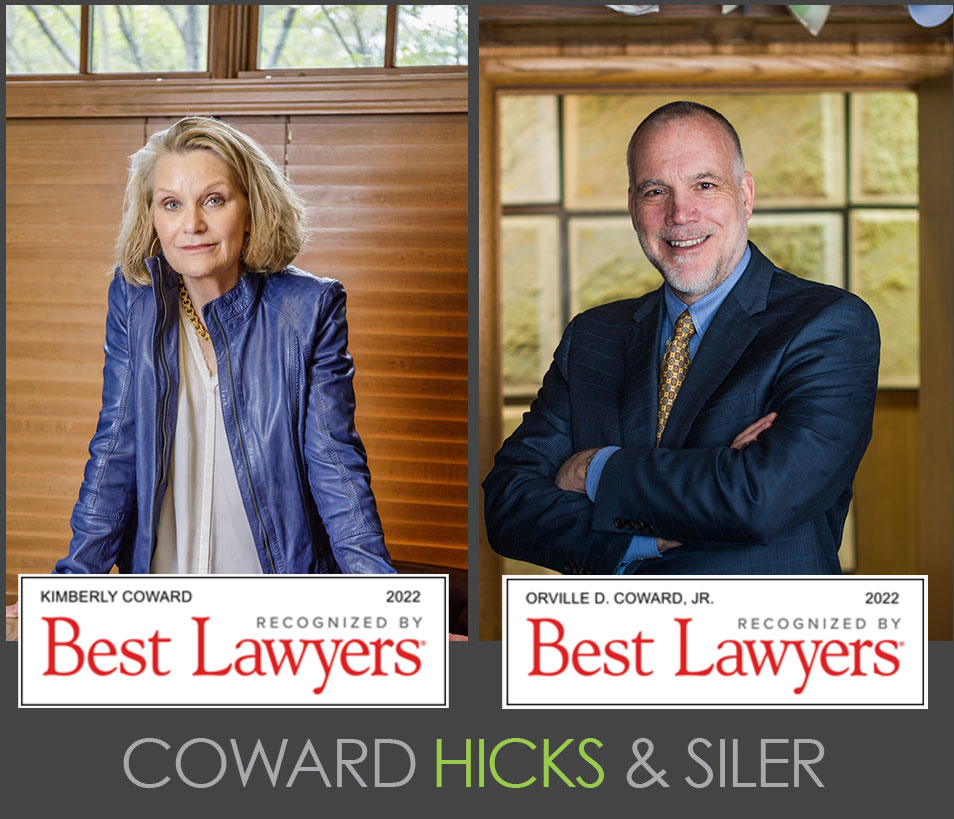 Coward, Hicks & Siler Partners Included in Best Lawyers in America 2022
We are pleased to share that Kimberly Coward and Orville Coward have once again been included in Best Lawyers in America. Orville Coward has been named to the 2022 Litigation – Real Estate Section and the Litigation – Land Use and Zoning Section. Kim Coward has been included in the 2022 Real Estate Law Section. Best Lawyers© compiles a list of outstanding attorneys like Orville and Kim state by state across the country through annual peer review. For more information about Best Lawyers methodology, click here: https://www.bestlawyers.com/methodology.
Orville D. Coward, Jr. was named the 2021 Lawyer of the Year for the Asheville Metro Area in Best Lawyers' Litigation – Land Use & Zoning Section, competing with lawyers from metropolitan areas hours away for the title. He began his practice with his father and uncle as a trial lawyer in 1979. He has served as President of the 30th Judicial District Bar, on the Board of Directors for Western North Carolina Legal Services, as a member of the U.S. District Court Western District North Carolina Rules Advisory Committee, and as a member of the North Carolina State Bar Special Committee on Real Estate Practice. Orville is headquartered in the firm's Franklin office.
Kimberly Coward specializes in residential real estate transactions in Western North Carolina. She is the only Board Certified Specialist in Real Estate Law – Residential Transactions practicing west of Asheville. She served as an Advisory Member on the North Carolina Bar Ethics Committee and is a member of the Real Property Law Section of the North Carolina Bar Association. From 2007 to 2013, she served on the Real Property Subcommittee of the North Carolina State Bar Board of Legal Specialization, and chaired that committee in the 2012-2013 fiscal year. Kim now serves as Chair of the North Carolina Board of Legal Specialization, which oversees the efforts of the Real Property Subcommittee and eleven other specialty practice areas in the State. A graduate of University of North Carolina at Chapel Hill School of Law, Kim joined the firm in 1988 immediately following her graduation. Kim heads the firm's Cashiers office.
Established in Sylva in 1951, Coward, Hicks & Siler, P.A. is among the most widely-respected firms in Western North Carolina, offering the talents of five attorneys in three locations: Sylva, Cashiers, Franklin. A general litigation firm, our lawyers focus their practices in the areas of real estate transactions and litigation including eminent domain, environmental law and resource management matters, estate administration, corporate law, and Indian law. To find out more about the Coward, Hicks & Siler firm, visit the website at http://cowardhicksandsiler.com.